The learning activities I design for my students encourage creative application of the critical thinking and composition skills they are learning and developing in any of my courses. These activities encourage engagement with social media and digital platforms, through which students can take their authorship beyond the classroom and see its applicability to everyday and professional life.
3 Sample Assignments
Facebook Profile and Character Analysis

This assignment asks students to consider a novel's characters in terms of characterization, social media culture, and identity. They then construct a social media profile for a chosen character (or characters) and write a reflective essay that analyses their choices in constructing the character's projected social media identity.

This assignment builds upon critical thinking and analytical skills, as students make choices about the character's identity and then explain their reasoning behind those choices in the reflective essay. In doing this, they also demonstrate knowledge of characterization, the novel form, and the relationship of our media-saturated culture today with the obsession with seeing and being seen that is so central to novels like Jane Austen's ​Emma.

Snapchat Narrative Assignment

Responding to Chimamanda Adichie's discussion of the "Dangers of the Single Story," students engage with historical and fictional narratives of global encounter and exploration in order to identify key narrative elements. Students then use Snapchat to construct their own narrative of an experience in a new place. Their corresponding written work then explores the potential of the digital medium for constructing narratives that resist the single story, as they analyze their experience alongside the context of the written narratives we have read as a class.

Archive Assignment

Students engage critically and creatively with a primary text and criticism, creating a visual and textual archive that makes a claim for the strongest interpretation of the text under discussion. The archive they create is specifically geared toward and audience of first-time readers of this text and must be visually and critically appealing.

This assignment is particularly designed to encourage the students to apply analytical and composition skills in a manner useful to any academic major and to students' varied professional goals.

Intermediate/Advanced Composition Student Sample:

http://maryshelleysfrankenstein.omeka.net/exhibits/show/mary-shelley-s-frankenstein
Powered by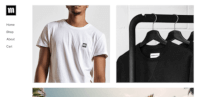 Create your own unique website with customizable templates.